This year, from September 22 – October 1, 2023, celebrate the 10th year of National Drive Electric Week in the Commonwealth of Virginia. Here are a few events that may catch your eye: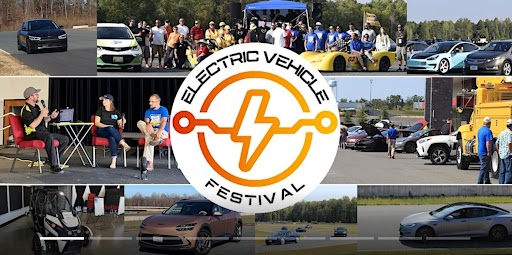 EV Charger Ribbon Cutting
Wednesday, September 27, – 4:00 – 5:00 pm
9383 N Congress St, New Market, VA 22844
An event to kick off the week is the EV Charger Ribbon Cutting at Jon Henry Country Store. Please join Virginia Clean Cities for a public ribbon-cutting celebration at Shenandoah Valley's premier electric vehicle charging facility. Throughout the duration of this celebration, there will be opportunities to embrace the progress of electric vehicle chargers and learn from electric vehicle owners, all while supporting the local country store. At this event, six Level-2 electric vehicle chargers will be unveiled. Chargers are from the Blink network and are made possible by the U.S. Department of Energy funding through the three-year Mid Atlantic Electrification Partnership.
Norfolk State University EV Showcase
Friday, September 29, – 1:00 – 3:00 pm
700 Park Avenue, Norfolk, VA, 23504
This is a student-focused showcase featuring a live DJ, informational EV tables, and more. This is sponsored by EVNoire and Virginia Clean Cities and hosted by NSU Energy & Sustainability. While attending, there are opportunities to learn about the latest EVs and charging technology from EV owners and EVNoire, an award-winning organization focusing on E-Mobility Diversity, Equity & Inclusion. Additionally, you can add to the event by registering your own EV to be shown!
Electricarpalooza 2023
Saturday, September 30, – 9:00 am – 12:00 pm
2999 Darbytown Road, Henrico, VA, 23231
Come to Dorey Park Farmers Market in Henrico, VA, to expand your knowledge of electric vehicles on the market. Here, you can find out the extensive benefits of an EV, ranging from the money saved to the benefits for our environment. While attending, some of the latest EVs on the market, including the BMW i4 and Hyundai Ioniq 5, will be viewable to the public, and out of the vehicles registered, over 720,965 electric miles have been driven! To accompany the event, there are additional activities, such as EV bingo. As a bonus, EV owners who sign to display their vehicles will receive a 25% discount of detailing or ceramic coating of their vehicles from Birghtmod Mobile Detailing!
To register to attend, please visit: https://driveelectricweek.org/event-attend?eventid=3926 
Virginia Beach National Drive Electric Week
Saturday, September 30, – 10:00 am – 1:00 pm
4554 Virginia Beach Boulevard, Virginia Beach, VA, 23462
At Pembroke Mall, located in Virginia Beach, VA, please join Virginia Beach in hosting an event to provide information about the benefits associated with driving electric. At the mall, participants will be able to view EV car displays from owners of electric vehicles, and from Dealerships within the surrounding area.
To learn more and register, please visit https://driveelectricweek.org/event?eventid=4087
National Drive Electric Week: Cars, Dogs, Books, Murals and More!
Saturday, September 30, – 10:00 am – 3:30 pm
201 Short Street, Waynesboro, VA 22980
This Saturday, take a trip to Waynesboro, VA, to celebrate National Drive Electric Week! Here, there are opportunities to converse with EV owners, see vehicles on display, and learn more about EV technology itself. There are a wide range of vehicles to see, and many attractions within the area to enjoy.
To register, please visit: https://driveelectricweek.org/event?eventid=4028 
Electric Vehicle Festival 2023
Saturday, October 7, – 10:00 am – 5:00 pm
6501 Dominion Raceway, Woodford, VA, 22580
On October 7, the 2023 Electric Vehicle Festival is being held. It is returning to Dominion Raceway in Thornburg, VA for its 3rd year. At the Raceway, there will be ample opportunities to showcase excitement and gain insight from the festival. Attendees will have the opportunity to experience and compare the latest EVs and get rides with EV owners around the racetrack, speak with vendors, and learn about the latest sustainable energy solutions. For EV owners, we have a special experience in store. You can enter your EV in our car show which is judged by members of the public!
To learn about more events and register (and get 10% off while helping VCC), visit www.eventbrite.com/e/582232000587/?discount=VCC10
Share