Electric utilities play an important role in transportation electrification in Virginia and the nation as a whole. Virginia has two state-regulated electric companies and 13 rural electric cooperatives. As EVs become more available in the marketplace, utilities have a unique opportunity to lead in issues such as charging times, incentives, rebates, and educational campaigns.
Need a visual? Here's a map of all electric-utilties in the Commonwealth and their terrirtories.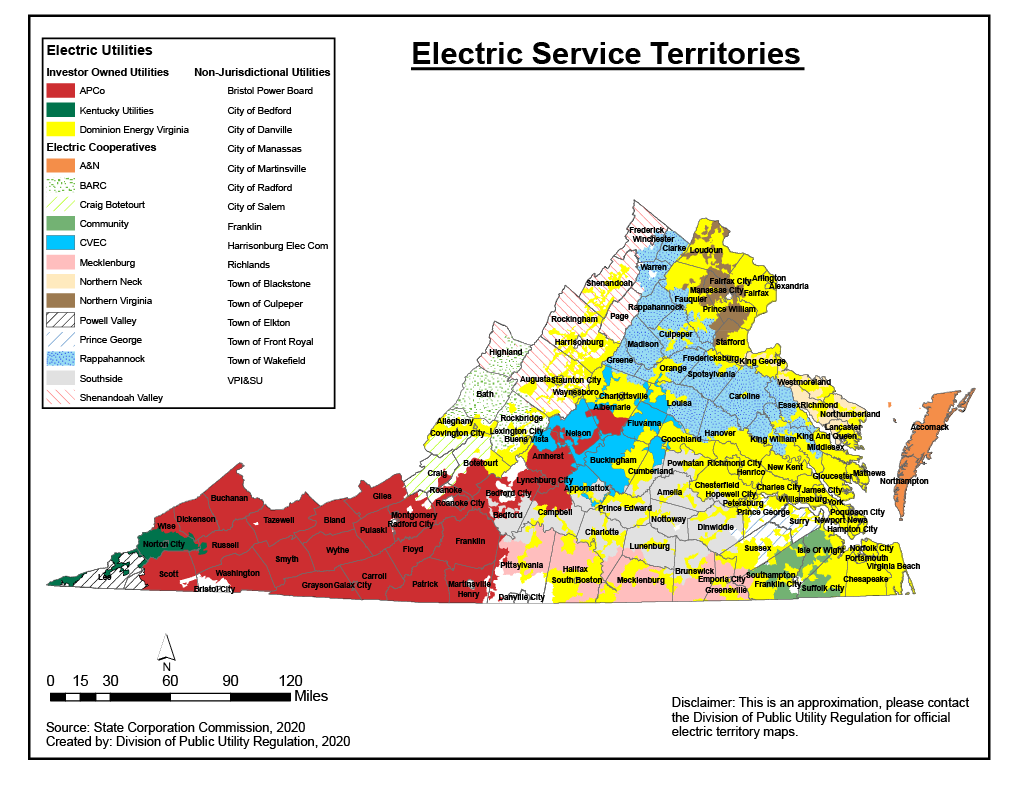 Now that you know your service area, does your utility have EV incentives? Here's a list!
Investor-Owned Utilities
Appalachian Power Co – Provides off-peak charging reduced rates for at-home charging, offers fleet assistance to businesses looking to purchase EVs or install EVSE – future programs coming soon!
Old Dominion Power (Kentucky Utilities) – Time-of-day rate savings for at-home charging, upcoming $0.25 per kWh fast chargers over 2022/2023, host a charging station opportunity for KU business customers
Dominion Energy – Off-peak charging rates, Electric School Bus Initiative, Smart Charging Infrastructure Pilot (Multi-family, Workplace, DCFC, Transit), Savings Calculator
Electric Cooperatives
A&N – EV and EVSE Consumer Education
BARC – Begun development on EV Charging rates
Community – EV and EVSE Consumer Education
Mecklenburg – EV and EVSE Consumer Education
Northern Neck – EV and EVSE Consumer Education
Northern Virginia – EV and EVSE Consumer Education
Old Dominion Electric Cooperative – EV and EVSE Consumer Education
Prince George – EV and EVSE Consumer Education
Rappahannock – Currently engaged in efforts to explore EV programs, EV expert services, EV and EVSE Consumer Education, recently joined Beneficial Electrification League's Electric School bus Initiative
Southside – EV and EVSE Consumer Education
Shenandoah Valley – EV and EVSE Consumer Education