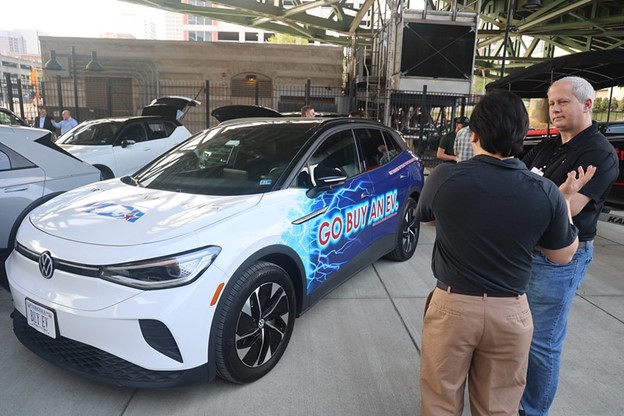 Over the course of the DRIVE Electric USA project, Virginia Clean Cities (VCC) has had great success engaging with Virginia's automobile dealers.The Virginia Automobile Dealers Association (VADA) has also been a key ally in the promotion of EVs in the Commonwealth.
The DRIVE Electric Virginia website serves as a central resource for consumers interested in EVs in the Commonwealth. The website section called Virginia EV Dealerships includes an interactive map listing dealers who have certified that they have at least two EVs on their lots and who are committed to selling these vehicles. VCC staff personally called and spoke with dealership management to obtain commitments.
One family-owned dealership chain, Carter Meyers Auto Group or CMA Auto, has been at the forefront of EV promotion and adoption. All of their dealerships include free EV charging stations, which are open to the public. Third-generation owner, Liza Borches, frequently speaks publicly about the benefits of EVs and was a featured speaker at the 2022 DRIVE Electric Virginia Forum, an online townhall. Liza and her husband Pete are EV drivers themselves so they speak from experience. In collaboration with DRIVE Electric Virginia partner Generation180, CMA Auto Group has held EV basics trainings for their salespeople, technicians and other dealer staff. Their local dealerships also actively purchase used EVs as a way to offer affordable options for first-time EV buyers.
In August 2023, a new EV-only used dealership opened in Richmond, Virginia. Recharged was founded by a former CarLotz executive who saw the growing marketplace for used EVs in the region. Working with the local chapter, DRIVE Electric RVA, a grand opening event was held with many attendees and VIPs. Recharged even has a consumer education philosophy on their website:
"At Recharged, we believe that an informed buyer is a confident buyer. We strive to educate our consumers about EVs, helping to demystify misconceptions and highlight the benefits of electric vehicles. Our comprehensive Education Hub brings all relevant EV information in one place through detailed posts that help buyers understand everything from the specifics of EV performance and battery life, to tax credits and incentives."
Hart Nissan in Mechanicsville, Virginia, has been a longtime supplier and supporter of Nissan EVs. They have public Level 2 charging stations and frequently participate in local EV events. Owner Phil Englander publicly champions EV adoption and encourages his employees to learn more about the technology. His dealership has been named Dealer of the Year by Dealer Rater for several years in a row.
There are individual Chevrolet and Ford dealers who have joined our certified dealers program and who continue to stock EVs to the best of their ability. The supply chain crisis has hit their manufacturers over the past few years.
Virginia dealerships have also shown up and participated in EV chapter events. In 2022, Drive Electric Richmond, EV Resource and Drive Electric Virginia co-hosted the "Electric Vehicle Luv Fest" on the day before Valentine's Day to showcase EVs to consumers. Held at a public park just outside the City of Richmond, the event featured information tables from the sponsors as well as from local car dealerships. Dealerships included Mercedes Benz of Richmond, Parks Chevrolet, Volvo Richmond and Richmond Ford-Lincoln. Dealer-provided cars included the Benz EQS, Corsair PHEV and XC40 Recharge.
Drive Electric Virginia has been especially successful with connecting with the Virginia Auto Dealers Association (VADA). VADA's president, Don Hall, has been very vocal in the news media about his organization's support for EVs and the Virginia Clean Cars Act of 2021. The act allows Virginia to sell more EVs than previously before.
VADA has been an instrumental partner in bringing EVs to its auto shows. Drive Electric Virginia and regional chapters have supplied vehicles for the Richmond and Hampton Roads auto shows for two years in a row. Interest has been high from the auto show crowds, numbering in the thousands.
In conclusion, Virginia has a strong and growing pro-EV dealer network. The passing of the Virginia Clean Cars Act has helped many dealers work with their manufacturers to bring more EVs to Virginia. Historically would-be EV purchasers in Virginia had to drive to neighboring states because they could not find many on the car lots. Now, consumer demand and dealership enthusiasm have led to even more EV adoption in Virginia.
Share